Press Release
---
02.21.23
Alcatraz AI Announces Web-Based Mobile Enrollment and Biometric Privacy Consent Management to Streamline Onboarding and Increase Transparency
AI and machine learning are transforming the way people enter buildings and secure areas by making access frictionless and more secure, while protecting user privacy

CUPERTINO, Calif. — EMBARGOED — Feb. 21, 2023 — Alcatraz AI, a global leader in autonomous access control solutions, today announced the addition of web-based Mobile Enrollment and Privacy Consent Management to its flagship facial authentication product the Rock™. Now, organizations worldwide can eliminate friction from the access control registration process by enabling secure mass or individual enrollment. New or current employees and visitors can enroll from anywhere in seconds, through their own mobile device or tablet. Privacy Consent Management provides an option for the user to opt-in or out of the use of their facial biometric data, protecting their privacy and helping enterprises remain compliant with the latest privacy frameworks and regulations.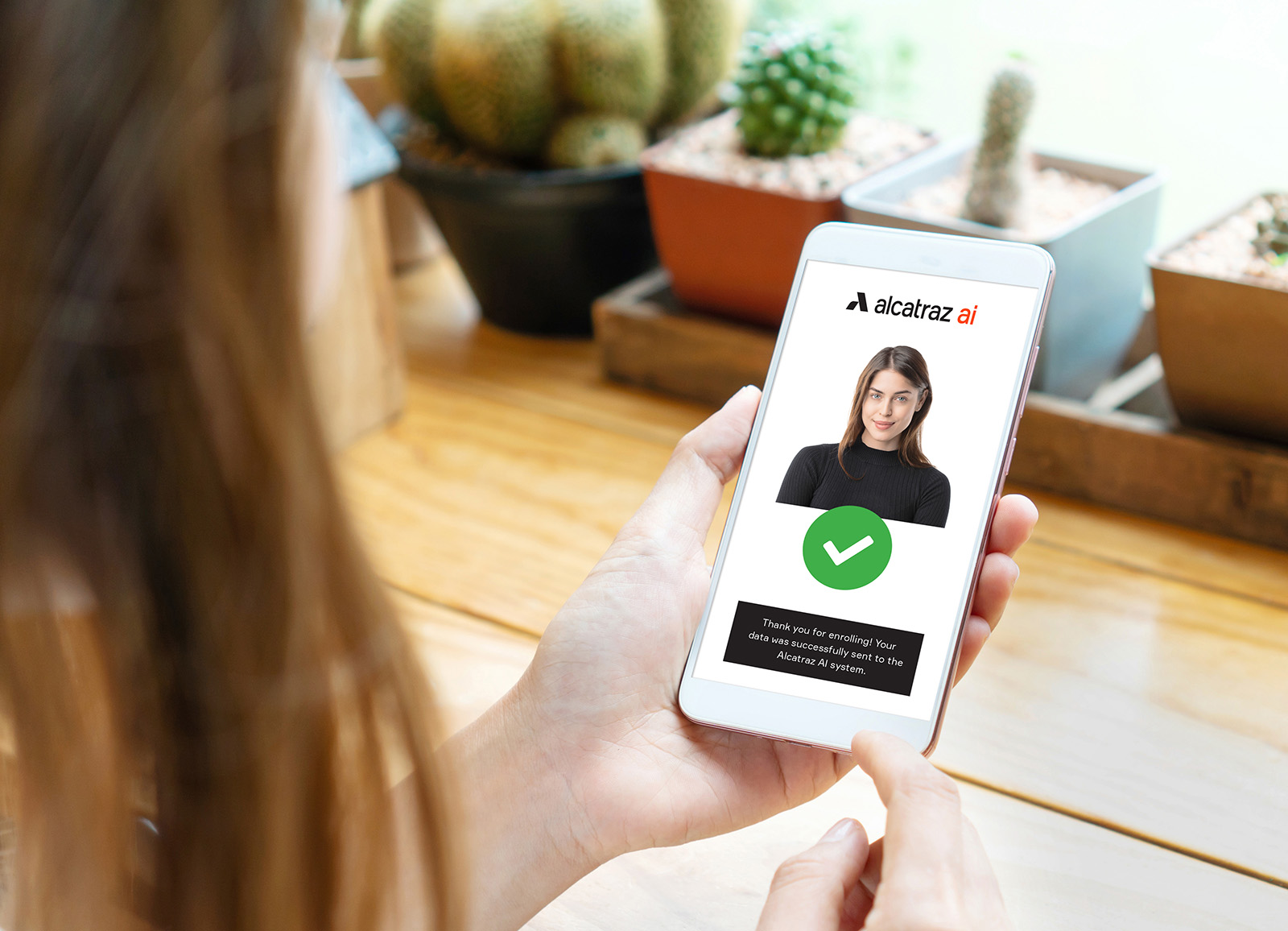 "Alcatraz AI is transforming the way people enter buildings and secure areas by making access frictionless and more secure, while also protecting user privacy," said Tina D'Agostin, CEO of Alcatraz AI. "Two of the biggest challenges to adoption of facial biometrics in the enterprise has been the burden of enrollment and the concern over privacy. With Privacy Consent Management we have created a simple opt-in process which allows our customers to communicate clearly with end users the benefits of facial authentication and how their personal data will be used and managed. Alcatraz AI Mobile Enrollment with Privacy Consent Management reduces the cost and complexity of the entire process and protects privacy by enabling corporate compliance with privacy laws and regulations such as General Data Protection Regulation (GDPR), the Illinois Biometric Information Protection Act (BIPA), and the California Consumer Privacy Act (CCPA); and, ultimately creates a more secure environment." 
Mobile Enrollment 
Enrolling a new employee into any access control system often takes 15-20 minutes as part of the onboarding process. For large organizations with dozens of new employees every day, it can mean hours of lost productivity. Alcatraz AI's web-based Mobile Enrollment enables administrators to now send a link or QR code to any new employee, allowing them to enroll in the organization's access control system before their first day, providing a seamless onboarding experience.
"Alcatraz AI took an already simple enrollment process and made it even easier," said Brian Courduff, Senior Director of Access and Video for JCI Security Products/Software House. "Integrators often get tied up in burdensome enrollment and re-enrollment processes that have been exacerbated by evolving back-to-work and hybrid work environments. Security teams need solutions that simplify the administration of the systems they rely on so that they can focus on continuously improving their security posture while also reducing the friction on the people they are protecting."
Customers can now streamline enrollment for any new employee or the entire workforce, saving time and money while making facilities more secure, and better protecting the users' privacy. Mobile Enrollment reduces the time and resources needed to enroll and manage employee access, provides a much better experience for employees, and strengthens an enterprise's security posture.
Privacy Consent Management
Alcatraz AI Privacy Consent Management allows companies to send their privacy policies and consent forms directly to individual employees so that they can read, understand, and opt-in or out of the use of their biometric data, understand the purposes for which their biometric data is collected and how that data is safeguarded.
"We have designed the Rock to conform to and support the latest privacy frameworks including GDPR, BIPA, and CCPA," said Blaine Frederick, Vice President of Product Development for Alcatraz AI. "The addition of Privacy Consent Management will help remove uncertainty with end users by creating transparency and support the best practices in the processes and procedures required to comply with those frameworks. It creates an easy way for end users to opt-in or out of the biometric portion of the access control system - once again removing friction for users and administrators."
In addition to Privacy Consent Management, the Rock provides a range of tools that can be configured to aid in achieving compliance with any combination of the growing patchwork of laws and regulations that govern the collection and use of biometric data, including non-access user management, real-time event log monitoring, customizable data retention schedules, and hard data deletes.
Mobile Enrollment and Privacy Consent Management will be generally available in the second quarter to all Alcatraz AI Hardware-as-a-Service customers deploying in the cloud. Privacy Consent Management will be available as an option to customers using Mobile Enrollment. Alcatraz AI will showcase the Rock at ISC West, taking place March 28-31, 2023 in Las Vegas. Attendees can book a demo at the show or stop by booth #30075 to learn more.
About Alcatraz AI
Founded in 2016, Alcatraz AI uses AI and machine learning to deliver industry leading facial authentication solutions to all access control systems to more effectively and efficiently keep people and spaces safe and secure. With its patented technology, Alcatraz AI's facial authentication solution, intelligent tailgating detection, and simplified enrollment process works natively with existing access control systems to transform physical security and protect individual privacy. With a vision of simplicity, security, and privacy Alcatraz AI is trusted to protect more than one million employees at Fortune 500 companies.
For more information, please visit www.alcatraz.ai and follow @alcatrazai on Twitter and Alcatraz on LinkedIn.
Contact
Shannon Campbell
Offleash for Alcatraz AI
alcatrazai@offleashpr.com