Press Release
---
03.01.23
Alcatraz AI to Host Biometric Privacy Webinar to Help Enterprises Navigate Laws and Regulations to Ease Compliance and User Adoption
Biometric and Data Privacy Expert David Oberly to Remove Fear, Uncertainty and Doubt Caused by Legislation and Court Rulings

CUPERTINO, Calif. — March 1, 2023 — Alcatraz AI, a global leader in autonomous access control solutions, today announced it is hosting a webinar to help professionals in the physical security market and corporations better understand how to successfully adopt and implement biometric access control solutions by creating a framework for communicating and managing privacy policies, procedures and compliance. Led by nationally recognized biometric privacy legal expert, David Oberly of Squire Patton Boggs, the webinar will cover the latest in biometric and data privacy laws and regulations, and how to develop communications, policies, and procedures to drive compliance and ease end-user concerns.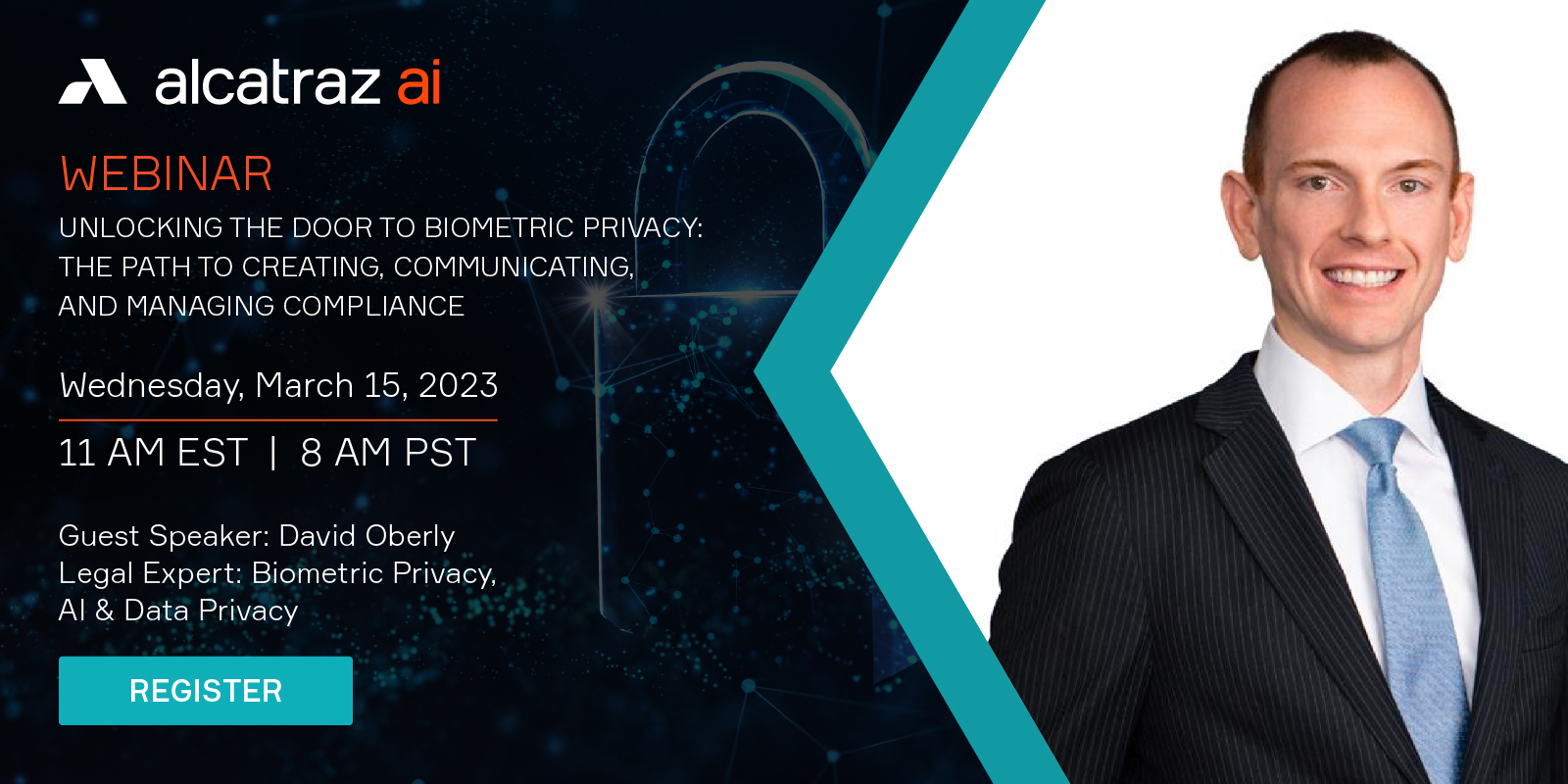 The free webinar will be held on March 15th at 11 AM EST / 8 AM PST. If a person is unable to attend the live webinar, they can register and receive an on-demand link after the event is over. 
"Many physical security professionals and end-users greatly value the benefits of using facial authentication to reduce friction at access points, strengthen their security posture, and address the challenges of tailgating and piggybacking," said Tad Druart, Vice President at Alcatraz AI. "Recent legal challenges and confusion about biometric privacy laws have created uncertainty and some reluctance to fully deploy systems. When a company prioritizes privacy, puts the proper policies, procedures, and opt-in technology in place, and clearly communicates with employees, they can easily create an environment that is more safe and secure by using biometric solutions." 
To register and learn more visit the Privacy Webinar Registration Page. 
About Alcatraz AI
Alcatraz AI uses AI and machine learning to deliver industry-leading facial authentication solutions to all access control systems to more effectively and efficiently keep people and spaces safe and secure. With its patented technology, Alcatraz AI's facial authentication solution, intelligent tailgating detection, and simplified enrollment process work natively with existing access control systems to transform physical security and protect individual privacy. With a vision of simplicity, security, and privacy, Alcatraz AI is trusted to protect more than one million employees at Fortune 500 companies.